By Brittany Lightsey, M.S., R.D., L.D.
It's that time of year again – the season for resolutions. Gyms are jam-packed with people and pantries are stocked with healthy foods. By the end of January, treadmills begin to open up and fast food restaurants look appealing. Fewer than half of resolutions last past February 1st. Here are four tips to make your resolutions long-lasting.
1. Be realistic. Trust me – going to the gym seven days a week, eliminating "junk" foods, and
always eating healthy snacks are LOFTY goals. Sometimes when it comes to our health, we get
too ambitious, and by the time spring rolls around, we are exhausted. Set a realistic resolution
this year by focusing on one area of your life at a time. Want your resolution to be health focused?
That's great! But if you are not making the time to exercise at all right now and are
indulging in lots of holiday treats,  I wouldn't count on increasing activity and changing your
diet in January.
2. Take baby steps. Focusing on one small step at a time increases the chances that it will
become a habit. Start by looking at these four areas and choosing which you think is your
weakest one. For example, if you are sweet tea drinker, start by trading out one sweet tea per day (let's say at dinner) for water. Do this for several weeks and then work on another sweet drink.
Don't have time to exercise now? Come January, find at least 15 minutes per day to get your
body moving. Promise to always take the stairs, park farther away, or walk before dinner.
What about veggies? Are your children eating enough? Make a family goal of trying one new
veggie per week and look for new recipes.
3. Make a plan. How are you going to achieve your new goal? Will it take a food preparation
night? What about a sticky note on the fridge? Or reminders on your smartphone? It is
important to think through all the steps. Even something as small as driving a different way
home so you don't pass your favorite fast-food restaurant counts. You want to start running?
What will it take? Setting your alarm a few minutes earlier? Packing your sneakers for work?
Write down all the steps to make it as easy as possible.
4. Focus on health and not weight. One of the number one New Year's resolutions is to lose
weight, and while this may seem like a great idea, only 8 percent of resolutions are kept long term
1. Remember, when choosing these healthy behaviors, weight loss will come. Also, it is
never a good idea focus on weight and appearance with children. Children grow, meaning
that their weight fluctuates over time and too much focus on this word can set children up for
disordered eating behaviors. Think about the word diet for a moment – do diets ever last for
lifetime? No, they are temporary attempts to lose weight. We want our children to grow up to
live healthy lives without yo-yo dieting and stressful relationships with food and/or exercise.
Adopting simple lifestyle changes will lead to a lifetime of health and happiness.
1. University of Scranton. Journal of Clinical Psychology. Published: 12.13.2012
Recipe of the Month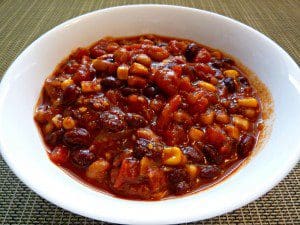 3- Can Chili
From "What's Cooking? USDA
Mixing Bowl"
Servings: 6
Total Cost: $2.27
Serving Cost: $0.38
Try this wallet-friendly entrée that you may already have ingredients for. This is perfect for a meatless Monday as the beans provide plant-based protein that will leave you and your children feeling satisfied.
Ingredients
1 can beans, low-sodium, undrained (pinto, kidney, red, or black 15 ounces)
1 can corn, drained (15 ounces, or 10 ounce package of frozen corn)
1 can crushed tomatoes, undrained (15 ounces)
Directions
1. Place the contents of all 3 cans into a pan.
2. Add chili powder to taste.
3. Stir to mix.
4. Continue to stir over medium heat until heated thoroughly.
5. Refrigerate leftovers.