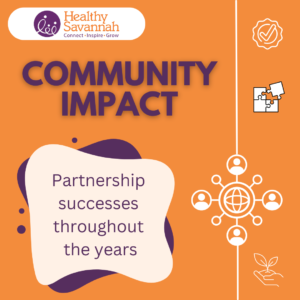 In 2018, Healthy Savannah and the YMCA of Coastal Georgia were awarded the Racial and Ethnic Approaches to Community Health (REACH) grant from the Centers for Disease Control and Prevention. Healthy Savannah and the YMCA of Coastal Georgia work along three major strategies: nutrition, physical activity, and community-clinical linkages. The organizations have made wonderful achievements as a result of REACH funding. Below are some highlights of the partnership's successes throughout the years.
2021
Bringing Affordable Healthy Food Choices to Your Corner Store
Nutrition insecurity, the inability to access fruits, vegetables, and nutritious foods, affects over 35,000 people in Savannah, Georgia. This issue impacts people residing in food apartheid areas, or communities in which social inequities cause nutrition insecurity. While grocery stores are not available in food apartheid areas, neighborhood corner stores that offer foods high in fat, sugar, and sodium are common. Healthy Savannah launched the Healthy Corner Store Initiative, a partnership with local corner store owners to bring healthy choices to the community. Seven stores have enrolled in the initiative, and positive responses from the community and local government will increase participation.
Read more about the Healthy Corner Store Initiative here.
Tide to Town Connects Communities in Chatham County
Residents in Savannah, Georgia struggle to meet recommended physical activity guidelines. The lack of safe and accessible spaces to engage in outdoor physical activities presents a significant obstacle. Tide to Town, a planned 30-mile network of walking and biking trails, will provide protected spaces for physical activity and serve an important role in transportation. The early phases of Tide to Town are complete and open to the public. Growing support from the City of Savannah and the people will help secure the project's future.
Read more about Tide to Town here.
Healthy Savannah Stakeholders Are Showing Up
Healthy Savannah and its partners have created a true coalition. Healthy Savannah has not only paved the way for meaningful work under the Racial and Ethnic Approaches to Community Health (REACH) grant but has created connections between its stakeholders. The organization's ability to form partnerships among people and organizations dedicated to building a culture of health in Savannah has enabled Healthy Savannah and its partners to sustain their individual and united goals through the current turbulent times, particularly those caused by the COVID-19 pandemic.
Read more about the Healthy Savannah Coalition here.
2020
Online Database Provides Chatham County Residents with One-Stop Access to Health Services
In January 2020, Healthy Savannah and the St. Joseph's/Candler Health System's African American Health Information and Resource Center (AAHIRC) launched a health resources database called HERO: Health Effective Resource Organizations, or HERO Help Me. It compiles over 1,500 free or low-cost services in over 50 categories in our community on one webpage, searchable by zip code, to connect people to critical services they may not be aware of. Top searches include food, rent and utility, housing, and childcare assistance. HERO Help Me receives thousands of unique visits and searches each month, and the AAHIRC remains focused on closing the referral loop by targeted outreach to health and social service agencies as well as to the community.
Read more about HERO Help Me here.
Photovoice Project Aims to Make Breastfeeding Easier in Chatham County
While breastfeeding/chestfeeding is widely recommended as the healthiest option for mothers and infants, according to 2017 National Immunization data, 84.1% of infants are breastfed for less than the recommended six months. This number is lower for infants in the Southeast, where infants are least likely to be breastfed.
According to the 2017 data, fewer non-Hispanic Black infants (73.7%) are ever breastfed compared with other racial groups. The Photovoice Project, Savannah H.O.P.E., enabled local Black American mothers to tell a visual story of the barriers they face while breastfeeding.
Using this data and with an emphasis on community buy-in, the Savannah and Chatham County Racial and Ethnic Approaches to Community Health team is working to make Savannah a "Breastfeeding and Chestfeeding Friendly Community."
Read more about the Savannah H.O.P.E. Photovoice Project here.
Healthy Walks Encourage Chatham County Residents to Get Up and Active
1 in 4 adults and 1 in 5 high school students fully meet physical activity guidelines for aerobic and muscle-strengthening activities. Barriers such as lack of access to safe walking routes or public parks limit recreation opportunities for the community, specifically in low-wealth neighborhoods.
The Healthy Savannah team is introducing the community to local trails and pathways around Chatham County through Facebook Live. Using their weekly 2-mile walks, Healthy Savannah encourages people to explore the trails either with them or on their own.
Read more about Healthy Savannah's Healthy Walks here.
2019
New Zoning Ordinance Paves Way for a Healthier Community in Savannah
The City of Savannah Zoning Ordinance was developed in 1960 and remained stagnant as the city grew and developed. The ordinance continued to stall and delay the progress needed to meet the demands of Savannah's growing neighborhoods. The updated zoning ordinance (NewZO) greatly improves the accessibility of the ordinance and makes key improvements such as the creation of connected street networks that support walking, biking, and access to bus routes. NewZO promotes mixed use to allow small-scale development to support neighborhood stability.
Fresh Express Program Improves Nutritious Food Access for Savannah Communities
1 in 4 children in Coastal Georgia is at risk for hunger, according to America's Second Harvest of the Coastal Empire. Just outside one of the nation's largest historic districts, our Savannah neighbors are choosing between rent and food for their families. In 2017, the YMCA of Coastal Georgia launched Fresh Express, a monthly produce distribution program to provide additional access to nutritious foods to healthy food priority areas within our community. With an increase in participation and a growing need for access points, Fresh Express expanded to a second distribution site in July 2019.
The additional distribution location provided access on both the East and West sides of Savannah each month and increased the average number of people served to 204 individuals.