Revamping school celebrations – keeping health in mind
by Brittany Lightsey, M.S., R.D., L.D.
By September, most students are getting into the swing of things at school, and for most elementary schools that means you've already celebrated one or two birthdays with cupcakes galore. While birthdays are special occasions, let's take a look at what a class full of birthdays does for your child's health:
The Facts
25 kiddos per class = 25 birthday celebrations per year
+ Holiday Parties (about 5)
+ Other celebrations (going-away parties, pizza parties for fundraising, ice cream celebrations)
1 celebration per week for the entire school year! (That's not including weekend birthday parties.)
Let's look a bit closer:
An average store-bought cupcake washed down with a juice pouch provides your child more than 350 calories and 49 grams of sugar.
That's over 12 teaspoons of sugar.
That's four times the recommended daily allowance of added sugar for children.
Try to influence the habits of your child's class this year by turning birthdays into healthy celebrations. Start by using one of the healthy food celebration ideas found on the back of this page or look to the websites of The Alliance for a Healthier Generation, Action for Healthy Kids, or Kids Eat Right for more ideas.
Dietitian's rule of thumb: If you are going to provide cupcakes or treats for your child's class, make sure you at least have one nutritious snack to pair it with. Think a veggie tray or sliced fruit with whipped topping. Always pack bottled water to drink.
A note about feelings – providing a supportive environment for everyone: I cannot tell you how many stories I've heard about children being left out of school parties because of diabetes or a food allergy.  Think of a child enrolled in our weight management clinic, one we are working with and educating about healthy choices to make in all areas of their lives. They will feel tempted to make bad decisions if constantly provided with unhealthy food choices. Make it a priority to be considerate of everyone. After all, Chatham County's childhood obesity rate is one in three.
Healthy School Celebrations
Feeling creative? These are great alternatives to cupcakes and cookies that will leave everyone feeling satisfied.  Plus, they will add a nutritious punch to otherwise "empty" calories.
Fruit Cones/Cups – Place mixed fruits into ice cream cones or cupcake wrappers.
Banana Pops – Slice bananas in half and insert popsicle sticks.  Roll in low-fat yogurt and whole grain cereal toppings. Freeze.
Waffle Party – Top small whole grain waffles with sliced fruit and nut butter. Microwave waffles are just fine. All you need to do is make sure the first ingredient says "whole grain."
Fruit Kabobs – Slide sliced fruit onto sticks. (Consider age-appropriateness for this one.)
Rocky Road – Mix low-fat chocolate pudding with graham cracker pieces and sliced almonds or peanuts. Add a few mini marshmallows for fun.
Fruit Pizzas – Allow kiddos to decorate small sugar cookies topped with low-fat cream cheese icing with their choice of sliced fruit. Your child's birthday? Allow him or her to pick out the fruit for the mini-pizzas.
Say cheese! – Whole grain Goldfish crackers with cheese sliced into triangles for shark's teeth.
Trail Mix – Bring supplies such as dried fruit, nuts, seeds, and chocolate chips for kiddos to make their own mix.
Dressed-up Popcorn – Bring plain popcorn and top with different flavorings such as Parmesan cheese, or basil, parsley and garlic powder.
Old Faithful – Baked whole corn tortilla chips and salsa are always a crowd pleaser.
Cookie Cutter Sandwiches – Use medium cookie cutter to make mini-sandwiches of all varieties.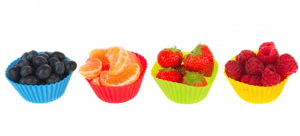 Be sure to check out our articles monthly on the "Parent Resources" section of SCCPSS' School Food and Nutrition Website found on www.sccpss.com. These articles will highlight tips, tricks, and recipes to keep your family happy and healthy. For questions or to receive an electronic copy of our newsletter every month, please contact Brittany Lightsey, MS, RD, LD at LightBr1@memorialhealth.com.