By Savannah Berry, Dietetic Intern, Georgia Southern University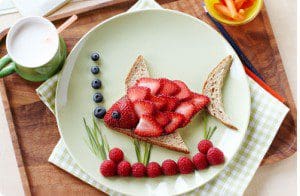 National School Breakfast Week is March 2-6, 2015. School breakfast helps students get a successful start to their day. A healthy breakfast can ensure students are "making the grade" in the classroom everyday.
But why is breakfast so important? Breakfast means, "breaking" the "fast." Every night when we go to sleep, our body moves into a fasted state since we are not eating any food for eight-plus hours. In the morning, our bodies need to be broken of that fast in order to create energy for the day.
Even something small such as a banana or granola bar is going to "break the fast." However, we need more nutrients to help our bodies begin the day. School breakfast consists of:
Fruits and/or veggies offered daily;
More whole grains; Fat-free or low-fat milk;
and Limited calories, fat, and sodium
What can breakfast do for me?
Students who eat more breakfast have better attention and memory.
Research indicates the quality of foods children eat impacts cognition, with poor nutrition linked with absenteeism, hunger symptoms, and psychosocial problems.
Students who participate in school breakfast show improved attendance, better behavior, and higher standardized test scores, as well as decreased tardiness.
Students who eat school breakfast attend, on average, 1.5 more days of school per year and score 17.5 percent higher on standardized math tests.
The School Breakfast Program significantly improves the cognitive abilities and learning capacities of children.
Recipe of the Month
On weekends and days when school breakfast is not available, try this delectable Fruit and Yogurt Parfait. It contains 3 of the main food groups that are typically required for breakfast.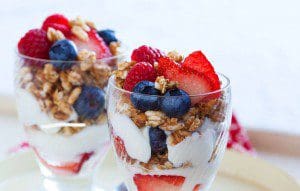 Ingredients:
1 cup of fat free of low-fat vanilla yogurt
1/4 cup stawberries, fresh or frozenn
1/4cup blueberries, fresh or frozen
1/3 cup granola
Place 2 tablespoon of yogurt in the bottom of the cup and smooth.  follow with 1 tablespoon of granola and 1 tablespoon of both strawberries and blueberries.  Repeat the process until cup is full. Top with remaining granola and garnish with leftover berries.  Serve immediately to keep granola crunchy
Total Time : 5 minutes
Yield: 1 Parfait