In 2020, Healthy Savannah received a grant from the Center for Science in the Public Interest. The grant program is designed to support public health and enact policy changes in the food and nutrition realm. Healthy Savannah is using the award to launch the Healthy Checkout Initiative, a partnership with the City of Savannah and local grocery stores to pass an ordinance that will incorporate healthier food options in checkout aisles.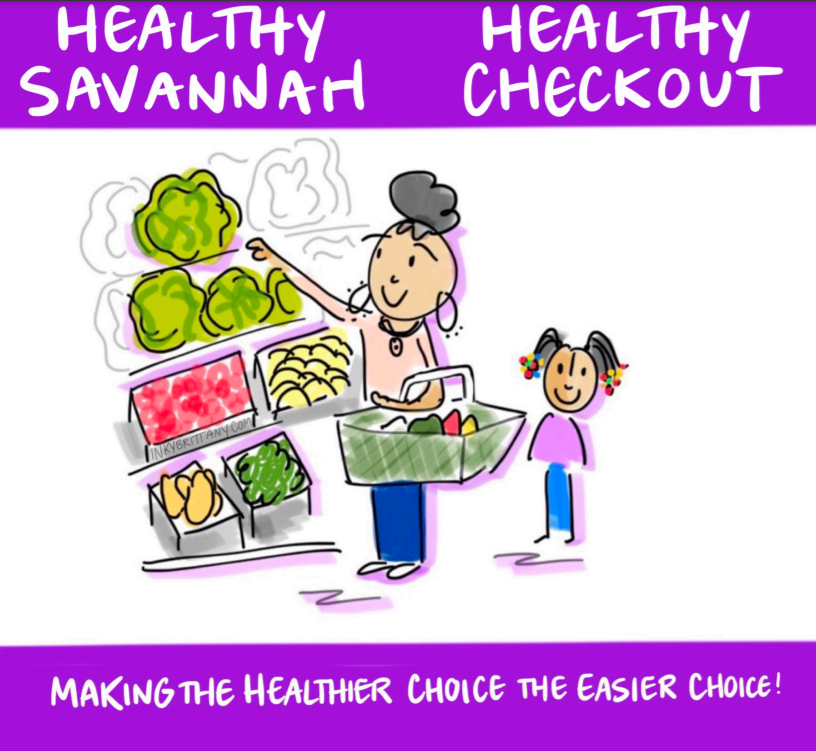 The grocery store occupies a significant space in the American diet and the communities in which they are located. 70% of the calories we consume are from grocery stores. Grocery stores are planned retail environments.
The food we choose and consume is strongly affected by the food environment. The food environment in Savannah often promotes food and drinks that are highly processed, energy-dense, and rich in sugar, salt, and fat.
Unhealthy food options appear throughout grocery stores in great volumes—at the entrance, in endcap displays, in their respective aisles, and in the checkout aisles. The repeated exposure and convenience of these items motivate people to select them for purchase.
Regular consumption of these foods can lead to the development of diet-related chronic diseases, including diabetes, high blood pressure, stroke, and cardiovascular disease. The chronic disease burden disproportionately affects people of color and those suffering from food insecurity.
Data collected from the Healthy Savannah Community Survey and focus group testing shows that people want and will choose healthier food items, such as fresh fruits and vegetables, if they are more accessible and affordable.
Healthy Savannah wants to increase the accessibility of healthier foods by working with local grocery stores to increase the number of healthier items in the checkout aisles. This small policy will have a meaningful impact on the food environment and health of our community and will fulfill Healthy Savannah's goal of making the healthier choice the easier choice.
If you would like more information and are interested in working with Healthy Savannah on this policy, please contact Ashley Rainge at ashley@healthysavannah.org.