Come, run, walk, visit and remember!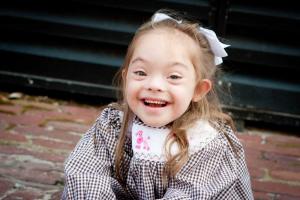 (SAVANNAH, GA) The Third Annual Memory Run for Emma Blu, benefiting the Lowcountry Down Syndrome Society (LDSS) will be held on Sunday, January 4 from 2 p.m. to 5 p.m. in Daffin Park. The yearly event was created to honor the life, laughter and love of Emma Blu Harvin, who died in 2012.
"Every year we reach out to see if there is enough interest for one more year and the response is an overwhelming, "yes!" said Allyson Harvin, Emma Blu's mom. "It's such a great opportunity to get together with the people that Emma Blu brought into our lives, like her teachers, therapists and special educators, that we don't get to see regularly but became part of our family."
When Emma Blu was born with Down syndrome, her parents, Allyson and Blu Harvin, became involved with the Lowcountry Down Syndrome Society in Savannah. After her death in November 2012 from a sudden illness, the Harvins continued to advocate for children and adults with Down Syndrome.
Now, every January around her birthday, the Harvins invite friends, family members and others who knew Emma Blu, along with anyone who simply wants to honor a little girl with a big heart and contagious smile, to "come, run, walk, visit and remember" during this informal, untimed three-mile run/walk in Daffin Park. Emma Blu's younger sister, Edison Kate, eagerly leads a children's run during the event every year.
The Memory Run for Emma Blu and Edison Kate's Kid's Run benefits the LDSS and its programs such as Camp Buddy, which offers educational and recreational activities to children with Down Syndrome during the summer months, and Night of Champions, which honors workers with Down Syndrome, and other differently abled adults, as well as the businesses that provide employment opportunities.
There is no official race signup and no fees to participate. For additional information, visit the Memory run for Emma Blu Facebook page at https://www.facebook.com/MemoryRunEmmaBlu. All donations to the Lowcountry Down Syndrome Society can be made by check or directly through the LDSS website athttp://www.ldssga.org/index.html
ABOUT THE LOWCOUNTRY DOWN SYNDROME SOCIETY
The Lowcountry Down Syndrome Society (LDSS) is a non-profit support group to benefit people with Down Syndrome and their families through local leadership in support, outreach, education and advocacy. Meetings are held every 4th Tuesday of the month, typically with a guest speaker and social time for families to meet and interact with one another. We encourage people to bring their children. We are an affiliate of the National Down Syndrome Society. For more information, visit http://www.ldssga.org/
CONTACT
Allyson Harvin
AWHARVIN@GMAIL.COM
www.ldssga.org
MEDIA CONTACT
Marjorie Young
Carriage Trade PR
marjorie@carriagetradepr.com
912.844.9990