By Brittany Lightsey, MS, RD, LD
An average American gains 1-2 pounds over the holidays, which may not be as much as you might
think, but can still be scary for those of us who have stayed on track with our health goals this year.
Here are some tips to keep you on track through the new year.
1. Don't skip meals. People often skip meals in attempt to balance their calorie intake over the course of the day. A key rule of thumb for the holidays is to try and stick to your normal routine. Eat breakfast and evenly spaced meals as well
as nutrient rich snacks to keep from overindulging on decadent holiday foods. The same goes for your kiddos as well. Encourage healthy breakfasts and snacks each day to keep them from taking part in the sugar and fat laden treats that are around every corner at the holidays. Looking for festive healthy snack ideas for your child? Try decorating a string cheese stick to look like a snowman or making Grinch fruit kabobs.
2. Be portion size wise. Don't go for the platter sized dinner plate. Instead opt for a salad plate and load with your favorites. Remember half of your plate should be fruits and vegetables. Try not to get seconds until after you've had a glass of water. If you still want seconds, go for the lower calorie veggies instead.
3. Cook healthfully. Use fruit purees like applesauce instead of oils when baking. Skip the fried turkey, instead try smoking one. To decrease calories from sugar, use sugar blends which are mixtures of artificial sweeteners and sugar. You can even have your children help make homemade cranberry sauce. It will decrease the sugar and encourage them to try it.
4. Keep it colorful! A holiday dinner plate can easily be one or two colors, beige and orange. Think turkey, a dinner roll, mashed sweet potatoes and pumpkin pie. Remember to include a rainbow at each of your meals to ensure you and your family are getting all the proper nutrients. Include dark-green vegetables. Try seasonal dishes such as roasted Brussels sprouts or a kale salad topped with pomegranate seeds and lemon dressing. Last but not least…
5. Make a plan. Another key piece of a healthy lifestyle is thinking ahead. You know you love your aunt's sweet potato casserole? Treat yourself to that instead of a slice of not-so extraordinary pumpkin pie. Plus, set realistic goals for yourself. Is it realistic to try and lose weight over the holidays? Probably not. Instead, try to maintain your current weight and your will be one step ahead come January.
—————————————————————————————————————————————————
Recipes of the Month
Green Beans Amandine
From A Diabetes Friendly Guide to a Healthy Thanksgiving Plate
Servings: 6 (1/2 cup per serving)
Ingredients
1 lb fresh or frozen French-style green beans, trimmed
1 Tbsp extra-virgin olive oil
¼ cup sliced almonds
1 tsp chopped garlic (about 1 clove)
1 tsp fresh lemon juice
¼ tsp kosher salt
Directions:
1. Bring 3 quarts of water to a boil in a large sauce-pot. Add the green beans to the boiling
water and cook until bright green and tender, 3 to 4 minutes. Remove to a bowl of ice
water and then drain.
2. Heat the olive oil in a skillet over medium heat, about 1 minute. Add the sliced almonds and cook until lightly toasted,
about 4 minutes. Add the chopped garlic and cook until light golden brown, about 1 minute. Stir in the lemon juice.
3. Add the green beans to the skillet and toss until coated. Season with salt. Toss until the green beans are heated through,
about 2 minutes. Remove the green beans to a warm serving plate. Serve immediately.
Balsamic Roasted Brussels Sprouts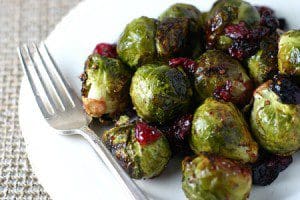 From Kids Eat Right
Servings: 4 (1/2 cup per serving)
Ingredients
1 pound Brussels sprouts, trimmed and halved
1 tablespoon olive oil
¼ teaspoon salt
¼ teaspoon pepper
¼ cup coarsely chopped pecans
½ cup balsamic vinegar
½ cup 100-percent apple juice
¼ cup dried cranberries
Directions
1. Preheat oven to 425°F.
2. Combine Brussels sprouts, olive oil, salt and pepper in a large bowl; toss. Spread Brussels
sprouts in a single layer on a large rimmed baking sheet and roast for 10 minutes.
3. Add pecans to the baking sheet and stir. Roast 5 to 7 more minutes, or until Brussels
sprouts are tender and slightly browned and pecans are golden.
4. Meanwhile, combine balsamic vinegar and apple juice in a small saucepan. Bring to a
boil over medium-high heat. Then, reduce heat to medium, and simmer 15 minutes or until
thickened and reduced to about ¼ cup. Remove from heat.
5. Transfer Brussels sprout mixture to a large bowl; add cranberries. Drizzle with balsamic
glaze, and toss until blended well. Serve immediately.