Summertime is all about fun, family, and food. Make healthier decisions at your family's next gathering or day by the pool by eating some of nature's summer treats, like blueberries. In fact, July is National Blueberry Month. You can celebrate by stocking up on blueberries at your next trip to the grocery store or farmers' market. Because blueberries are at their peak of harvest in July, prices will be at their lowest levels of the year, and they will taste great!
When you consider the best fresh-food options for your family, nothing beats the blueberry and here's why1,2:
Brain Health: Anthocyanins responsible for giving blueberries their deep blue color may help reduce cognitive decline and improve short-term memory loss.
Bone Health: Blueberries have a high manganese content which is an important nutrient for strong bones.
Dietary fiber: Foods high in dietary fiber, like blueberries, can prevent constipation and promote a healthy digestive tract. Fiber even promotes heart health by lowering the amount of cholesterol in your blood and decreasing your risk of heart disease. One cup of blueberries has 3.6 grams of fiber. There's more – dietary fiber helps you feel fuller longer, decreasing your overall calorie intake.
Vitamin C: One serving of blueberries has almost 25 percent of your daily value. Vitamin C helps collagen formation for healthy gums, ligaments, and tendons and keeps your immune system in tip-top shape.
Reduced Cancer Risk:  Antioxidants in blueberries fight against cancer-causing free radicals and possibly block tumor cells from forming. They even help reduce inflammation.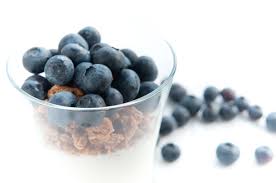 How can you add more blueberries to you family's diet?
Toss in salads.
Top yogurt or whole grain cereal.
Blend into smoothies.
Add to whole-grain pancakes, waffles, and muffins.
Eat as a snack! Freeze low-fat Greek yogurt-covered blueberries for a treat anytime of the day.