Ingredients:
½ cup melted coconut oil
2 eggs
1 teaspoon vanilla extract
⅓ cup unsweetened applesauce
⅓ cup maple syrup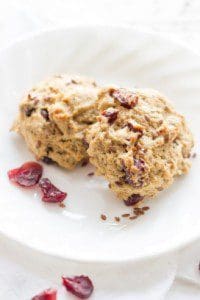 1½ cup whole wheat flour
1 cup rolled oats
¼ cup flaxmeal (ground flaxseeds)
½ teaspoon baking soda
½ teaspoon cinnamon
Pinch of salt
1 cup dried cranberries
Whole flaxseeds for garnish
Directions:
Preheat oven to 350°. Line a baking sheet with parchment paper set aside.
With a mixer, combine the coconut oil, eggs, vanilla, applesauce, and maple syrup until well blended. Add in the flour, oats, flaxmeal, baking soda, cinnamon, and salt. Mix until well blended. Fold in the dried cranberries.
Drop rounded tablespoons onto the prepared baking sheet, leaving about an inch between cookies. Sprinkle whole flaxseeds on top.
Bake in preheated oven for 12-15 minutes, or until golden brown and solid. Let cool for five minutes on baking sheet, then transfer to a wire baking rack to cool completely.